December 28, 2012

2xist Valentines Day Contour Pouch Brief Scotts Red, International Jock
2xist takes a classic brief and adds a punch of color for an amorous look. It features a breathable, soft cotton blend that moves with your body while retaining its flattering and sexy shape. Paired with a smooth, patterned waistband and contrast seaming around the edges and pouch, it's the perfect update on an underwear staple.
Fabric: 95% Cotton, 5% Spandex
December 27, 2012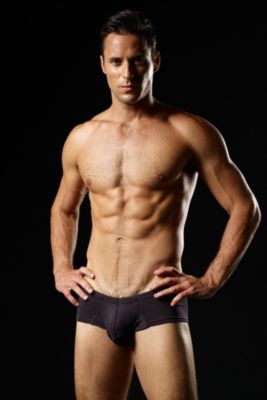 Good Devil Zoom Boxer Brief, undergear.com
Menís underwear made from polyester / spandex
December 24, 2012

Emporio Armani Soft Trunk Marine, International Jock
Emporio Armani's ultra-soft trunk is made up of a luxurious blend of cotton with just a hint of stretch.
Fabric Content: 95% Cotton, 5% Elastane
November 28, 2012

JM Action Brief White, International Jock

Fabric Content: Breathable and accommodating 100% Cotton
November 26, 2012

Puma Pro Tech Boxer Brief Grey, International Jock
Perfect for the active guy, the Puma Pro Tech boxer brief is designed to keep up with even your hardest workout. Featuring microfiber paneling that wicks away moisture and is accommodating to your every movement, this brief will keep you dry and comfortable no matter how hard you work. A contoured pouch keeps you supported along with mesh insets that allow for maximum breathability.
Fabric: Body: 92% Polyester, 8% Spandex; Mesh: 85% Nylon, 15% Spandex
November 7, 2012

Good Devil Contour Bikini White, International Jock

Fabric Content: 86% Polyamide, 14% Spandex
November 5, 2012

Bon Bon Bodywear Athletic Mesh Trunk Black, International Jock
Fabric Content: 100% Nylon
November 1, 2012

Calvin Klein Steel Micro Low Rise Trunk Dream, International Jock
A bold waistband, lusciously touchable & shape-defining microfiber, and a super-streamlined, undeniably virile silhouette.
Fabric Content: Lusciously soft and conveniently flattering microfiber: 90% nylon, 10% elastane
October 28, 2012

Calvin Klein CK One Cotton Boxer Brief Palmer Stripe, International Jock
The Calvin Klein One Cotton Stretch Boxer Brief adopts and adapts CK's outstanding tradition for classic, sexy, underwear to fit your needs right now. Made with a flexibly sturdy cotton/spandex blend, cut in a stylish extended boxer brief, and honoring Calvin Klein's famed ratio of comfort and magnetism, this is the everyday boxer brief for today's man.
Fabric Content: 95% cotton, 5% elastane
October 24, 2012

Diesel Holiday Blade Brief Black, International Jock

Diesel presents their seasonal holiday collection featuring classic briefs updated with modern detailing. This year plain underwear is out and bold, graphic briefs are in! Let yours speak for you in a variety of stylish prints and cheeky text.
Fabric Content: 94% Cotton, 6% Elastane
October 3, 2012

BlueBuck Brief Grey, International Jock

Fabric Content: 95% Organic Cotton, 5% Elastane
September 30, 2012

Emporio Armani Striped Hip Brief Smoke, International Jock

Fabric Content: 95% Cotton, 5% Elastane
July 18, 2012

Calvin Klein Bold Micro Low Rise Trunk Giselle, International Jock

Fabric: 82% Polyester, 18% Elastane
December 6, 2010
PPU JOCKSTRAPS -- UNIQUE, STYLISH AND OH SO AFFORDABLE
Be sure to check out the latest addition to Jockstrap Central: PPU Jockstraps. PPU has created one of the most visually stunning jockstraps of the year incorporating a couple of unique and effective features.
Like all jockstraps, the elastic leg straps join up to the waistband but these straps continue parallel until they meet the pouch forming a sexy slit. Both the duo-colored 1 inch leg straps and 1.5 inch waistband with PPU logo incorporated into it are made of a super-soft plushed elastic and are extremely comfortable.
The mostly cotton pouch has a hint of spandex for shape retention and includes a striking contrasting piping around the outside. The new PPU jockstraps are made in black and white or orange and black.
Think designer styling with department store pricing.
October 23, 2010

CockSox Enhancer Brief Quartz White, International Jock
CockSox enhancer briefs feature a specially designed pouch that lifts and supports your "family jewels" to give you an enhanced male profile and excellent support. The combination of superior fabric technology and their unique design make CockSox briefs exceptionally comfortable. These CockSox briefs are made from Supplex, a highly breathable, very soft, fast drying, colorfast fabric with high moisture-wicking properties. CockSox briefs also feature an internal elastic waistband for extra comfort & support and a flattering, unlined cut for maximum style.
92% Supplex / 8% Lycra. Gentle machine wash in warm water. No chlorine bleach. Do not Iron. Do not dry clean. Imported.
October 21, 2010

Andrew Christian FlexSoft Show-It Boxer White, International Jock
October 1, 2010

SPANX Zoned Performance Crew Shirt White, International Jock
November 7, 2009

Male Power Moonshine Jockstrap, JockstrapCentral.com
Black - Poly/Spandex
While not technically a jockstrap, but a cross between a jockstrap and a brief with the ass cut out--whatever you call it, it's undeniably hot. Check out the way the rubberized fabric accentuates your upfront look, then take a look at the rear view (yours or whoever you get this for) to see how they got the name "Moonshine"... You definitely need this before you get low down and dirty for the next time you see a full moon rising...
October 2009
August 15, 2009

2xist Form Trunk White, International Jock
Now you can re-shape your "spare tire" with "Form" underwear by 2(x)ist. Designed to give you abs instead of love handles, 2(x)ist's Form underwear slenderizes the midsection. Form's 6-inch wide elastic waistband will take a couple of inches off your waistline while providing back support and improving posture. Now you can look like you've been working out with a personal trainer by simply pulling on a pair of underwear!
The front pouch is nicely contoured for comfort, the leg openings gently hug your thighs and the slimmer look you'll achieve is simply amazing.
Body: 80% cotton / 20 % spandex; Waistband: 92% poly / 8% spandex. Machine Wash. Imported.
August 14, 2009
JockstrapCentral.com has a new model, Christopher.
April 7, 2009

Activeman Rainbow Swimmer Jockstrap, JockstrapCentral.com
At Toronto Pride last year, Jockstrap Central had loads of requests for a Pride rainbow jockstrap so they mentioned the fact to Activeman and within a few weeks, they not only had a Pride jockstrap, but an exceptional one.
The woven moisture wicking pouch design seamlessly travels the colors of the rainbow (and the pride flag.) The black plush 1.25 inch waistband and 1 inch leg straps ensure comfort and support for all your best assets!
March 18, 2009
Joe Snyder Stretch jock, JockstrapCentral.com
80% Plyamide 20% Lycra
Joe Snyder has come out with what is probably the sexiest of his peek-a-boo jockstrap designs yet - camouflage. It contains a body hugging lycra that clings, molds, shapes and shows exactly what you've got with a peek-a-poo slit between the pouch and the top strap in case something arises.
The jock is one size fits most in the 28-38 waist range ... and the pouch, well let it grow - see it streeetch!
December 4, 2007
Photos of some stars in their underwear, at Kenneth in the (212)
October 30, 2007
I added two items to the Diesel page.
October 6, 2007

Ergowear MAX Brief Black, International Jock
Ergowear's Max brief is fitted with an amazing three-dimensional pouch. It is ergonomically designed to perfectly fit your legs and has a center seam in back to hug your buns. The pouch provides an exclusive shape-enhancing yet very comfortable lifting effect with extra room up front. The signature 1 1/4 inch waistband gives it an masculine, athletic look.
All items in the Ergowear MAX Collection are manufactured in Cotton/Lycra and this blend ensures the best possible performance for each type of fabric: Softness and moisture management through Cotton, Lycra for a perfect fit with excellent support and shape retention. Beautifully made in Chile with incredible attention to detail.
October 4, 2007
JockstrapCentral has a new line of Kinkwear jockstraps.
August 29, 2007
New page: Punto Blanco